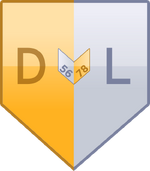 | | |
| --- | --- |
| ! | This article is created and thus fully owned by User:Dragonleaf5678 unless specified otherwise. Please ask for direct permission when using this article or segments thereof. |
An extract from Darreled Kenny's Diary
I laid Kuacki on my bed, and just stared at his big, fluffy moustache. I think at one point someone dyed it, because it was basically a shade of pink. My phone was ringing. It was Cyndy.
She said Kuacki's sister needed Kuacki, but I explained that he was basically the equivalent of a drunken earthworm (nice way to put it right), so Cyndy came right over.
She basically said that he needed to go to hospital, immediately. Luckily the words 'hospital' woke him right up. He asked us why 'Hoes were spitting on us all', and I could tell that Kuacki was back. I was guessing that Mr. Crow saw me dumping my homework in the bin, because my Mom texted me saying I needed to go to school to pick up my homework. Cyndy left before I decided to go to school, so Kuacki had to come with me AGAIN. I was hoping that the bullies had killed themselves so we could get it done with.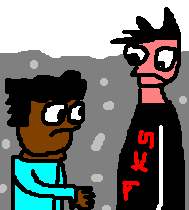 Obviously they hadn't.
I basically sneaked into the weird entrance to the school where the perverts hang out, and entered Mr. Crow's office. He handed me a massive pile of cow poop homework, and said DON'T chuck it in the bin. I saw the bullies heading towards Mr. Crow's office, and they obviously seeked vengeance. Mr. Crow obviously foresaw me jumping out of his window, so we had to take the door. They shouted at Kuacki. One of them tried to punch him, but Kuacki rabbit punched their tummy, kneed them in the balls, wrapped his hand around their neck and throttled them on the ground, and kicked them in the face, MULTIPLE times. They all began to flee like hopeless babies, so he grabbed the bully's shoe hit one of the fleeing pewp's head. He probably got a brain tumour.
I saw a bunch of the practising cheerleaders CHEERING for Kuacki's acts, and they all came out and greeted him. One of them even kissed him on the lips. Boy, I was jealous. They even carried him as a group, and I was just left sitting there, my bum wet. I think a few of them trampled the bully, because his face piercings had fallen out. Oh well, all I can say is, suck then lump.