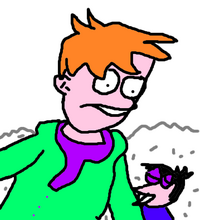 An extract from Darreled Kenny's diary
Today the school turned fifty, wow, it must have been a long half-century for our head teacher, Mr. Jordan. Today we did the usual, the register, half an hour's worth of reading, and we had our recess. Seriously, it was like Dawn Of The Planet Kids out there. I was in the little kids playground because I had to do this stupid thing were you get picked to look after little kids from Home Lane nursery, psh, more like Home Lame nursery.
It was like torture out there! One of the little olive flounders bit my arm. I told Mrs. Hatch, this stupid French teacher, and she 'told' the little monster off. The little pantalones cagados started crying and I got in trouble! The old hag told me I wasn't child friendly enough for the job - and she sent me and my butt back.